Tyres, as the "foot" of a car, have always been silently serving the host. However, it is such a critical part that is most likely to be "cold." Today we will teach you several precautions for self-testing tires.
Shadong:
Did your car tire get stuck? If so, how long ago was it? In fact, for cars that have already completed their tires, even if they are used for the time being, there will be less tolerance under extreme loads. In addition, if more than 3 holes have been drilled on the same tire, it is recommended that you replace it as soon as possible.
Drum kit:
When a car drives through pits, obstacles, and roadsides at high speeds, the tires will undergo severe deformation under a large impact force, and the internal pressure will increase instantaneously. The immediate consequence of this is tire bulging. Tyres that have already experienced bulging must be replaced immediately, otherwise there is a danger of puncture.
Pattern:
In general, the normal use of household cars can be replaced every 60,000 kilometers or two years, but the pattern of serious wear should be replaced earlier. Now the repair shop has a pattern wear ruler, the owner can buy one, at any time to detect their pattern of tire wear. In addition, the increase in tread cracks is also a sign of serious aging of the tires, the owner can usually spray some tire protection wax, there is to try not to press the corrosive liquid when driving.
Pressure:
For the front-wheel drive, the front wheels can sometimes look awkward because the important components such as the engine and the transmission are pressed on the front. The visual inspection is inaccurate. It is necessary to use a special tire pressure gauge to measure whether the tire pressure is normal.
Stones:
Some owners often hear that their car will make a noise while driving, but there is no fault in running. At this time, you need to check if there is a small stone stuck in the tread pattern. In fact, you can solve this problem by simply taking the time to use the key to dig out the small stones in the tread pattern.
Spare tire:
In order to make the spare tire play a real emergency, we must also pay attention to its maintenance. First of all, we must always check the spare tire pressure; Second, the spare tire should pay attention to anti-oil erosion, tires are rubber products, most afraid of being eroded by various oil products. Tire inflation can occur soon after tire oiling, which will greatly reduce the service life of the tires. Finally, the life expectancy of spare tires will be around 4 years. Many owners mistakenly believe that spare tires have not been used until they are new. Actually, they have passed 4 Even if the spare tire is not used once, it needs to be replaced. Otherwise, the spare tire becomes a waste tire.
Hydraulic Stage Lift:
Used Large Club Lift has the function of lifting, rotating, tilting multiple functions.
Drama Theater Lift Platform is to improve the effect of the recent stage equipment. Also has the self-locking, interlocking, mechanical limit control functions. Then the stage Lift platform is safe and stable and reliable.
Lift Up, Stop and Lower of
Revolving Stage Lift Platform
could be realized at each control point. The
lift platform
could stop at the accurate loaction point.
Smooth working condition,high load capacity, safe and reliable. The overload protection devices are

available and meanwhile the hydraulic system has the anti-drop function when any failure happens. Power
Supply of Car Display Stage Lift Table is from local power sources.
Configuration for High Quality Revolving Car Display Stage Lift:
1. Platform Material: rectangular tube + checkered anti-slip plate.
2. Support scissors: high strength Manganese Steel.
3. Hydraulic system: 380V or 220v or as your request.
4. Hydraulic cylinder: sets high precision wear-resisting cylinders with locking device for fall protection.
5. Piston Rod: hard chromium plating surface.
6. High-pressure oil pump: from Italy or Chinese famous brand.
7. Hydraulic pipe: high pressure pipe with double expanded metal protected.
8. Hydraulic oil: summer 46#, winter 32#.
9. Controller: 1 control box below, 1 hand controller above platform.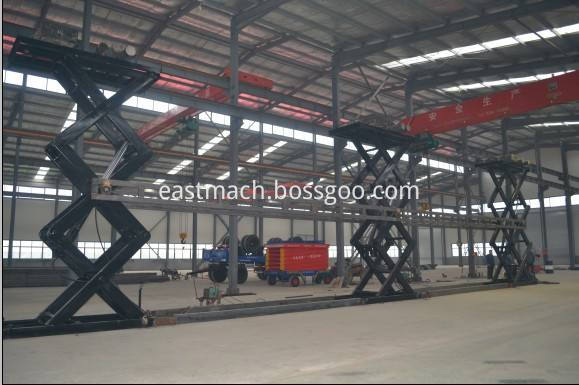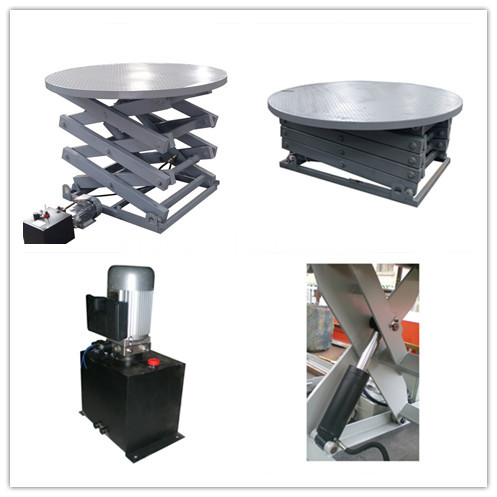 Application Area:
Hydraulic Stage Lift is widely used in the assembly hall, cinemas, theaters, multifunction hall, studio, culture and sports venues, hotels, and other cultural entertainment places.
If you have any questions, please contact with us directly. Hydraulic Stage Lift are produced with High Quality and Good Appearance. Welcome you can visit our Factory. For inqury, Please send mail directly to us.
Hydraulic Stage Lift,Hydraulic Scissor Lift Stage,Rotating Hydraulic Scissor Stage Lift,Adjustable Hydraulic Stage Lift
Jinan East Machinery Co.,Ltd. , https://www.jneastmach.com