On September 6th, 2019, Shaanxi Automobile Cummins' product value experience and large-scale tasting was held in the "Western Region Throat"-Xijiang Hami with the theme of "Inheriting the Classical Casting of the Classical Oil Saving Model".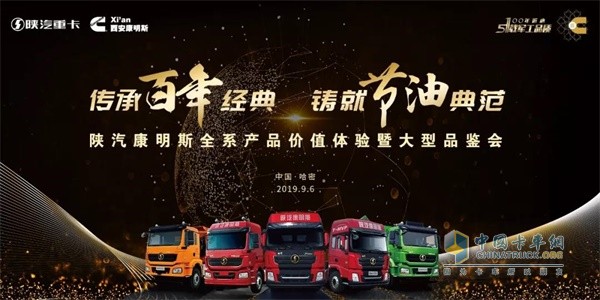 Shaanxi Automobile Cummins full product value experience and large-scale tasting
Xi'an Cummins Engine Co., Ltd. Customer Support Director Cai Xian, Shaanxi Heavy Duty Truck Sales Company Xinjiang Regional General Manager Bai Xuefeng, Xi'an Cummins Engine Co., Ltd. Northwest Region Manager Li Dapeng, Xinjiang Hengtongyuan Automobile Sales Co., Ltd. Mr. Chai Dongyong and other manufacturers, More than 150 people from the industry chain, dealer leaders and local Shaanxi Auto Cummins customers and guests attended the event.
Hami is located in the traffic between the Western Region and the Central Plains. It is the main tunnel to the Western Region in history. It is regarded as the "Western Throat". The transportation network is now criss-crossed, extending in all directions, and because of the rich coal resources in the Hami area, it is a logistics transporter. Bringing opportunities for wealth. This event is a policy to recommend the Shaanxi-Chongming Cummins X3000/New M3000-440 tractor for the logistics and transportation conditions in the Hami area. Under the premise of ensuring high attendance, the company will reduce customer operations with significant advantages such as fuel-saving and rapid service. Cost, under the guidance of Xi'an Cummins Shaanxi Kangyun intelligent service system, improve vehicle transportation efficiency and increase customer operating income.
Hard work pays off. Shaanxi Automobile Cummins has established a good reputation in the hearts of customers and friends in the Hami area for many years. The group purchase party once again brought the car purchase preferential policies for Hami's friends. The on-site signing ceremony was hot and accompanied by a large order strategy signing, activities. Very effective.
The event was the second stop of the Xinjiang Region of Shaanxi Automobile Cummins Large Group Buying Conference, which was successfully concluded in the laughter of customers and friends. The next stop, Xinjiang Kashgarchu Station, will also bring rich product value and generous gift giving to customers and friends. Stay tuned!
Reading volume: Source: Xi'an Cummins Author: hear the wind
Mining Pumps,Pumps For Mining Industry,Volute Slurry Pump,Volute Foam Pump
Sichuan Zigong Industrial Pump Co.,Ltd. , https://www.zgpump-global.com