High Steam Pressure AAC Autoclave / AAC Sand Lime Block making machine
 
 
1. Product Description:
The autoclave is the large pressure vessel that can steam the pressurized bricks or normal bricks which is made from aerated concrete blocks, sand and pulverized fly ash, and then complete the reaction of Cao-SiO2-H2O. Besides, the autoclave is also widely used in other productions that need to be steamed with high pressure. Autoclave is key equipment which has a widely application in building material factory to autoclaved cure different kinds of building materials. It is also used in areas of chemical, textile, wood, Glass, Brick, metallurgy, Rubber, military industry. Convenient operation, security and reliable are its advantages.
 
2. Autoclave structure
The main parts of autoclave are autoclave door ,body apparatus, tank cover device, the door swing device, hand reducer, safety interlocks, bearings, insulation,,sealing devices, plumbing valves and meters, etc., also attached with drainage and electric control devices. Various structural designs and manufacturing can be safe and reliable, also can ensure the autoclave more stable in performance.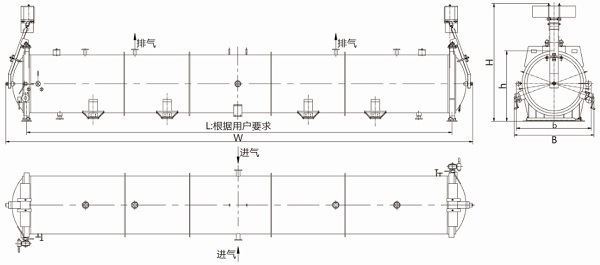 Item

Type

Φ1.65m*L

Φ2m*L

Φ2.5m*L

Φ2.68m*L

Φ2.85m*L

Φ3m*L

Φ3.2m*L

Inner diameter

Ø 1.6m

Ø 2m

Ø 2.5m

Ø 2.68m

Ø 2.85m

Ø 3m

Ø 3.2m

Length

L

L

L

L

L

L

L

Designed pressure

1.6Mpa

1.6Mpa

1.6Mpa

1.6Mpa

1.6Mpa

1.6Mpa

1.6Mpa

Designed temperature

 




204ºC

 




204ºC

 




204ºC

 




204ºC

 




204ºC

 




204ºC

 




204ºC

Max operation pressure

1.5Mpa

1.5Mpa

1.5Mpa

1.5Mpa

1.5Mpa

1.5Mpa

1.5Mpa

Max operation temperature

201ºC

201ºC

201ºC

201ºC

201ºC

201ºC

201ºC

Medium

Saturated Steam

Rail distance / height

600mm/




150mm

600mm/




150mm

800mm/




200mm

800mm/




250mm

963mm/




280mm

1220mm/320mm

1220mm/




320mm

Corrosion allowance

2mm

2mm

2mm

2mm

2mm

2mm

2mm
 
3. Material:
a) Q345R-GB713 of Hangang in Hebei.
b) 16MnIIlevel of making flange forging
c)  φ133×25 tube to make DN100 and the material is 20-GB9948.
 
 
4. Process:
a) After welding kettle door, it must proceed with annealing heat treatment.
b) Polish toothed cutter of flange of autoclave body, and carry out magnetic particle testing.
c) Use double scale container board, and ensure the longitudinal joint of each section.
d) Carry out the physical and chemical test (stretch, impact), ensure its strength.
e) Welds are 100% X-ray detection, then carry out hydraulic test of 2.1MPa after passing. The whole process is complete inspected by CSEI factory inspection, and leave factory after stamp and signature  
 
5. Autoclave advantage
1.Longer service life.
2.To kettle cover - head butt, head - butt welding puzzle, kettle - kettle body butt welding flange ring to be a 100% inspection with 100% annealing.
3.Using automatic welding processes.
4.Advanced design, pipeline operations, stable quality and high efficiency.
5.Products can also be segmented to adapt to users' needs; good overall package, short installation period, low investment.
6.Best service and remote technical guidance available.
 
6. Security Measures:(Triple Security)
a).Hand speed reducer installs mechanical interlocking, and we don't move when there's pressure in kettle.
b).Equip with manual limited safety interlocking device, stuck kettle manually, and when open it , then we can open the door.
c).Equip with electric limited safety interlocking device , using cooperatively with manual limit, and connect with electric cabinet, rotating electrical ark with pressure and sound-light alarm.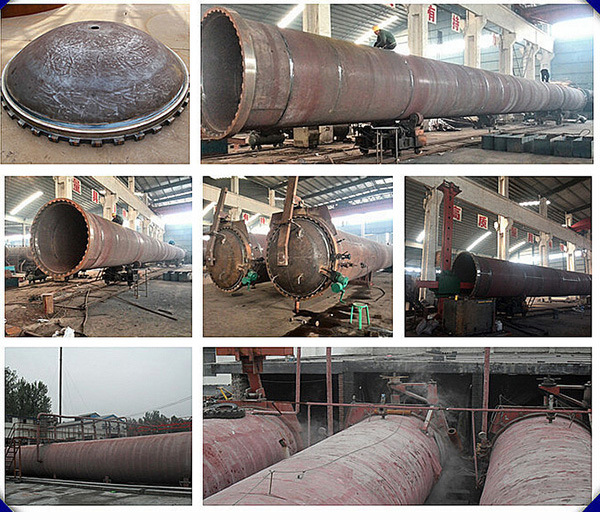 Motor for drilling is a part of Downhole Motors which contains conventional downhole motors, adjustable bend

housing downhole motors, high temperature resistant downhole motors, oil base mud resistant downhole motors,

corrosion resistant downhole motors,etc. Motor for drilling is the tool which can decrease drill pipe abrasion and

increase drilling speed. It is the main equipment for directional well drilling and it has been using extensively.
Motors For Drilling,Mud Motor,Hydraulic Motors,Directional Motors
Weifang Shengde Petroleum Machinery Manufacturing Co., Ltd. , http://www.sdpetromachine.com